During this tutorial we are going to show you have to create a scheduled post on Facebook as well as how to reschedule or delete a scheduled post.  If you need help deleting an already scheduled post you can view our tutorial on Deleting or Rescheduling a Scheduled Post.
How to Schedule a Post on Facebook
First go to your Facebook page.  Your user account will need to have permissions to make a post on the page you are using.
Make a post on the page as you normall would adding text, images and so forth.  Just don't submit the post yet.  Below we have a sample post that we are making onto the Dimbal Software Facebook Page.

On the bottom left of the posting window you will notice a small clock icon.  Click it.

You will be presented with a window extension.  This is where you will enter the scheduling details for your post.  It should look similar to the below.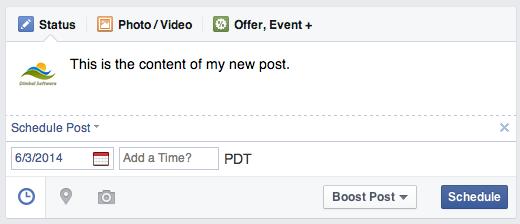 First you will need to select the appropriate date in which the post should be published.  Currently Facebook pages only allow you to post into a future date.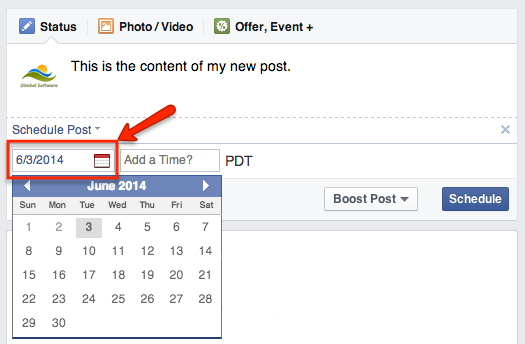 Once you have selected the date you want, move to the next field which will let you select the approximate time that the post should be published.  The time is not a guarantee, but Facebook has done an excellent job of delivering scheduled posts on time.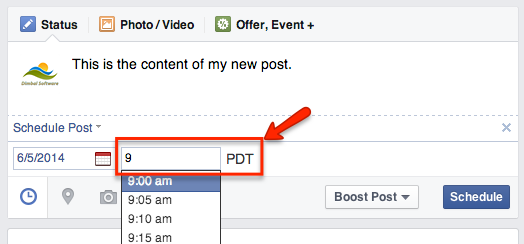 Now that you have your date and time setup for your post to be published you are just about ready to submit it.  Give your post a quick review and make sure that it is exactly as you want it.  Once you are satisfied, click on the Schedule button on the lower right hand side.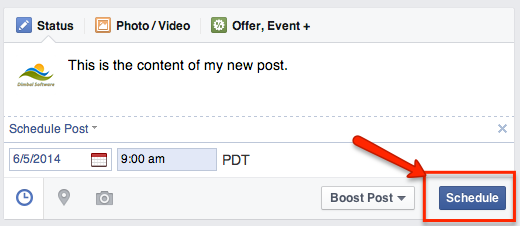 Once Facebook receives your request they will schedule your post.  If everything goes smoothly you should see a confirmation box similar to the following:

That's it.  You have just submitted a scheduled post to your Facebook Page.  Your scheduled post will go live on your Facebook page at the time that you specified.  When you are done you can click either the close button or the view activity tab button.
Keep reading onto our next post to learn How to Delete or Reschedule a Scheduled Post on Facebook