Infographics are a great way to add compelling and unique content to your blog, facebook page or other social media outlets.

Creating an effective infographic is really not that hard - but there are certain things to keep in mind.  Let's explore those.
What is the Goal of the Infographic
Before you start working on your infographic you need to clearly state the goal of the infographic.  there is no right or wrong goal here.  Some example goals could be:
Promote a Concept or Idea
Advertise a Business or Service
Entertain and Generate Social Shares
There are many more goals - but clearly defining your goal and stating your intentions will help you make better decisions down the road.
What information will be presented
With your goal of the info graphic in mind you can now start gathering the data that you want to present.  If you are trying to promote a concept, such as "Recycling", you could share facts about how much plastic waste is generated each day.  You will also want to show the benefit of recycling, so you may include a fact about how many trees are saved by recycling paper, etc. If you are promoting a business or service, you might want to look at providing facts about the benefit offered.  For example an Accountant could include a fact such as "Tax payers who use an accountant save 25% more on average in taxes" or "It takes 36 hours for the average individual to file their own taxes without an Accountant".  These facts are designed to help sell the value of your service, without actually making the user buy anything.
Where will the Infographic be shared
This is an important question to ask, because it helps you determine the type of infographic medium that you will need to use.  For example.  if you intend to share it on Facebook and Pintrest, then a JPG image will most likely be your medium of choice.  If you are only planning on using it on your website, then you may consider an online service which offers Infographics with interaction capabilities.  I.E. users can select parts of the info graphic and interact with it.
Who will make the Infographic
Deciding who to make your Info Graphic is an important choice.  Generally you have three primary options:
Use a pre-made one
Make it yourself
Use an online service
Hire it out
For a more detailed look at who should create your Infographic visit this article:  
Deciding who should make your Infographics
.
Online Infographic Services
There are a few online infographics services that can help you build or promote your infographic.
http://infogr.am
is a service that let's you create basic charts and info graphics online.  The service is very good for chart options but has limited icon representations for concepts outside of graphs.  They also allow more dynamic interactions where users can select and change info graphic information... which is very cool.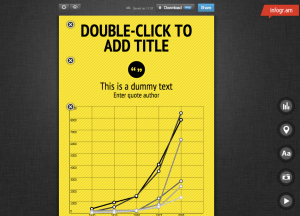 http://visual.ly/
is a service where you can find info graphics that are compelling and useful.  This is a good service to use when you are searching for ways to represent your data and concepts.  The site offers a professional design service, but no online tools to create info graphics yourself.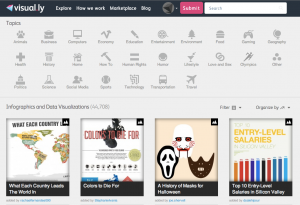 Have Infographics helped your online / social presence?  Let us know what has worked well for you in using Infographics.