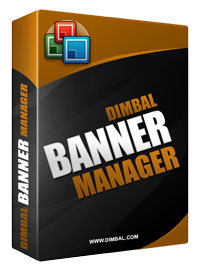 Announcing the availability of the new Dimbal Banner Manager, a fully featured website banner ad management software application.
The Dimbal Banner Manager was engineered to be powerful, feature rich and yet easy to implement.  With just a small snippet of code you can include individual Banners, groups of Banners and more, anywhere on your website.
Banners ads are a great way to help monetize your website content.  In addition a Banner Management application can help you run internal promotions, display random content and highlight new posts and information. The Dimbal Banner Manager has a large number of key features to make your banner ad management fast and easy. Below is just a small sampling of the features available to you in the Dimbal Banner Manager.
Administration Panel.  A powerful administration panel is provided to assist in the administering of your software.
Advertiser Grouping.  Group your banners by advertising for side by side metrics and comparisons.
Impression and Click Tracking.  Track both a banners impression rate as well as click rate.  See valuable insights on daily basis on a banners performance.
Unlimited Banners / Advertisers.  There is no maximum to the total number of Banner or Advertisers that can be added to the system.
Zone Organization.  Define logical groups for your banners (such as ad placement locations) then the Dimbal Banner Manager takes care of determining what banner should be shown.
Start Date.  An option to allow the form to automatically start processing results on a specified date.
End Date.  An option to allow the form to automatically stop processing results on a specified date.
Status.  Multiple status states to help you manage forms that are being created, are live, are expired and are deleted.
And Much Much More! The Dimbal Banner Manager is a downloadable solution written in PHP and MySQL. Installation is easy and takes less than 5 minutes. Need help along the way? Support is available through our support channel. Want more information? Visit the 
Dimbal Banner Manager Product Page
.