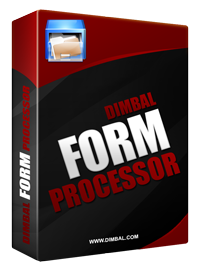 Announcing the availability of the new Dimbal Form Processor, a fully featured form processing software application.
The Dimbal Form Processor was engineered to be powerful, feature rich and yet easy to implement.  Just point your HTML forms to the Dimbal Form Processor and the software will handle all of the processing, routing and data storage.
Forms are needed in all sorts of ways across your site.  Whether it is a sales inquiry, support needs or even signing up for contests and promotions.  Processing the data in the form can be a nightmare.  Validating input, sending e-mails and so forth is a challenge.  The Dimbal Form Processor strives to make that process as easy as possible.
The Dimbal Form Processor has a large number of key features to make your form processing fast and easy. Below is just a small sampling of the features available to you in the Dimbal Form Processor.
Administration Panel.  A powerful administration panel is provided to assist in the administering of your software.

Ignored Fields.  Allows you to specify fields within the form that should be ignored and not collected.

Start Date.  An option to allow the form to automatically start processing results on a specified date.

End Date.  An option to allow the form to automatically stop processing results on a specified date.

Status.  Multiple status states to help you manage forms that are being created, are live, are expired and are deleted.

Redirect.  An option to specify a URL to redirect to upon submission of the form.

Hit Counter.  The total number of times that form has been accessed is tracked automatically.

Unlimited Forms.  The system has no limit on the number of forms that can be in the system at one time.
The Dimbal FormProcessor is a downloadable solution written in PHP and MySQL. Installation is easy and takes less than 5 minutes.
Need help along the way? Support is available through our support channel.
Want more information? Visit the
Dimbal Form Processor Product Page
.