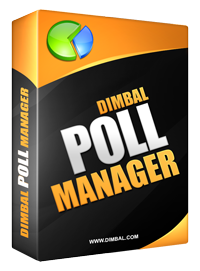 Announcing the availability of the new Dimbal Poll Manager, a fully featured poll management software application.
The Dimbal Poll Manager was engineered to be powerful, feature rich and yet easy to implement.  With just a small snippet of code you can include custom made polls anywhere on your website.
Polls are a great way to engage your visitors and make their experience more rewarding.  It is also a great way to gather quick and simple insight into your users opinions and views.  Users are often turned away by lengthy forms and surveys yet have no problem answering a quick single question poll.
The Dimbal Poll Manager has a large number of key features to make your poll management easy and effective.  Below is just a small sampling of the features available to you in the Dimbal Poll Manager.
Administration Panel.  A powerful administration panel is provided to assist in the administering of your software.

Multiple Responses Option.  An option to allow or deny multiple responses to the same poll from the same user.

Maximum Responses Option.  An option to only allow a specific number of responses before closing the poll.

Maximum Answer Choices Allowed.  An option to allow more than one answer per poll.

Start Date.  An option to allow the poll to automatically begin on a specified date.

End Date.  An option to allow the poll to automatically end on a specified date.

Status.  Multiple status states to help you manage polls that are being created, are live, are expired and are deleted.

Show Results.  An option to either show or hide the results of a poll after the user has submitted their answer.

Hit Counter.  The total number of times that poll has been accessed is tracked automatically.

Zones.  Zones allow you to group your polls into logical groups and display a random poll from that group.

Unlimited Polls.  The system has no limit on the number of polls that can be in the system at one time.
The Dimbal Poll Manager is a downloadable solution written in PHP and MySQL.  Installation is easy and takes less than 5 minutes. Need help along the way?  Support is available through our support channel. Want more information?  Visit the
Dimbal Poll Manager Product Page
.